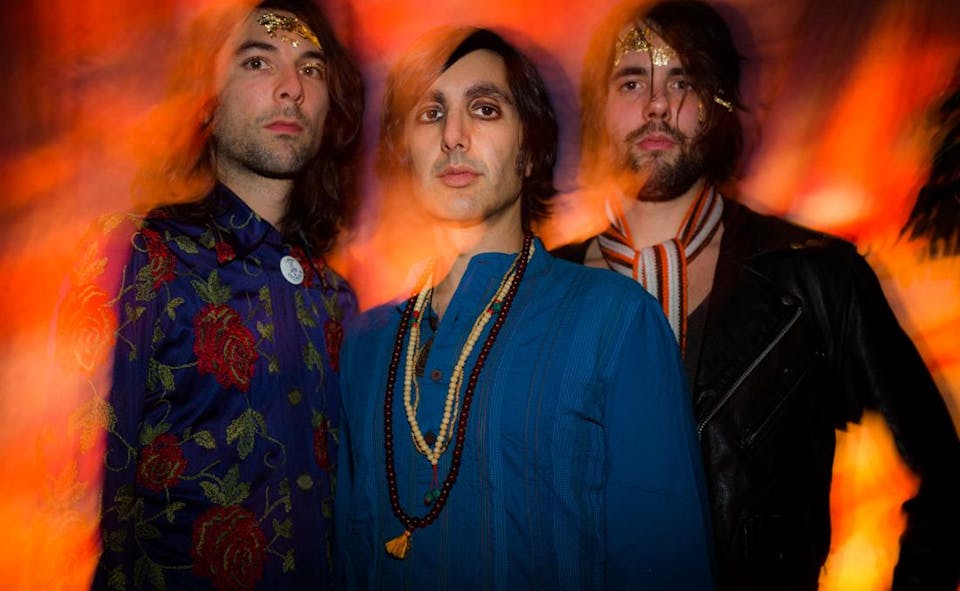 with Frankie & The Witch Fingers, Shadowgraphs, Pete International Airport
Elephant Stone
Frankie & The Witch Fingers, Shadowgraphs, Pete International Airport
Doug Fir Lounge
Portland
,
OR
A stacked lineup headlined by Montreal's Elephant Stone: traditional Indian music meets Western psych rock
$ 12- $15
DOORS 7 PM / SHOW 8 PM
THIS EVENT IS 21+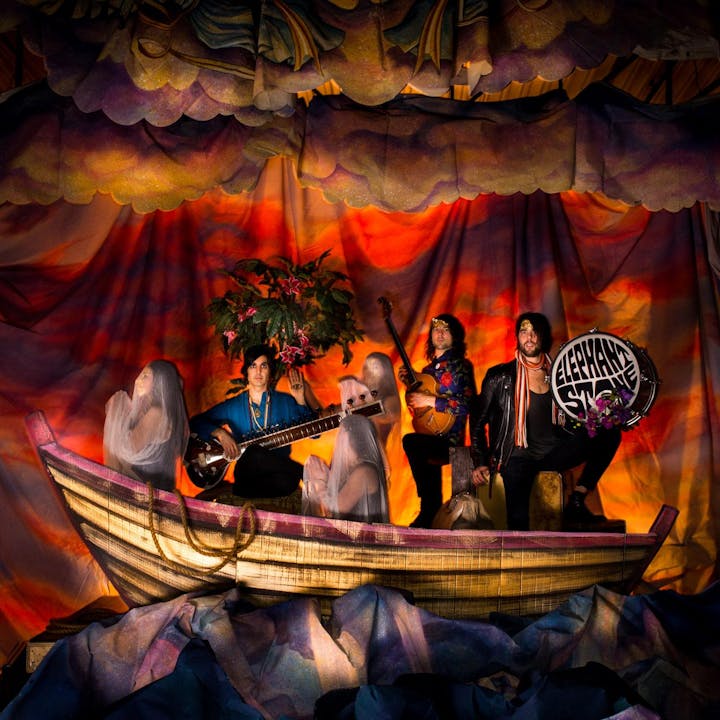 Elephant Stone
Instagram | Twitter | Facebook | Spotify | Youtube
RISHI DHIR - vocals, bass, sitar, keys
MILES DUPIRE - drums, backing vox
GABRIEL LAMBERT - geetar, backing vox
Formed in Montreal in 2009, Elephant Stone is the brainchild of vocalist, bassist, songwriter, and sitar player, Rishi Dhir. Also featuring Miles Dupire (drums/backing vox) and Gabriel Lambert (geetar/backing vox), Elephant Stone have toured extensively throughout North America and Europe and are prominent members of the burgeoning psych rock scene. Dhir has recorded, performed, and toured with indie rock icons (Beck), legendary cult bands (The Brian Jonestown Massacre), and contemporary psych titans (The Black Angels and The Horrors).
Released in 2009 on Dhir's own Elephants on Parade label, Elephant Stone's debut album, The Seven Seas, was nominated for the 2009 Polaris Music Prize, which honors the best full-length Canadian album. Produced by Jace Lasek (The Besnard Lakes), the album introduced Elephant Stone's innovative blend of rock 'n' roll, Hindustani classical music, and infectious pop on an album chockfull of memorable songs, such as "Bombs Bomb Away," "How Long," and "The Seven Seas." The 2010 EP The Glass Box expanded on the spirited sounds of The Seven Seas.
In 2013 Elephant Stone released their second full-length LP, Elephant Stone. The album received critical acclaim from NPR, Brooklyn Vegan, Consequence of Sound, and other important media outlets. It also contained Dhir's finest batch of songs yet, especially the singles "Heavy Moon" and "Love the Sinner, Hate the Sin," as well as the raga-drenched meditation, "A Silent Moment."
A third album – The Three Poisons – followed in 2014. Elephant Stone's heaviest, grooviest, and most ambitious record to date, The Three Poisons yielded the band's two biggest hits: "Knock You from Yr Mountain" and "Child of Nature (Om Namah Shivaya)." And the darkly compelling and inventive "Three Poisons" showcased Dhir's lyrical exploration of Buddhist themes and The Tibetan Book of the Dead.
The Three Poisons remix album – ES3PRMX – appeared in 2015 as a digital download. Anton Newcombe of The Brian Jonestown Massacre, Tom Furse of The Horrors, Alex Maas of The Black Angels, Peter Holmström of The Dandy Warhols, and more contributed remixes.
In 2016 Elephant Stone released their fourth album, Ship of Fools, via Elephants On Parade/Burger Records.
-- Paul Gleason (2016)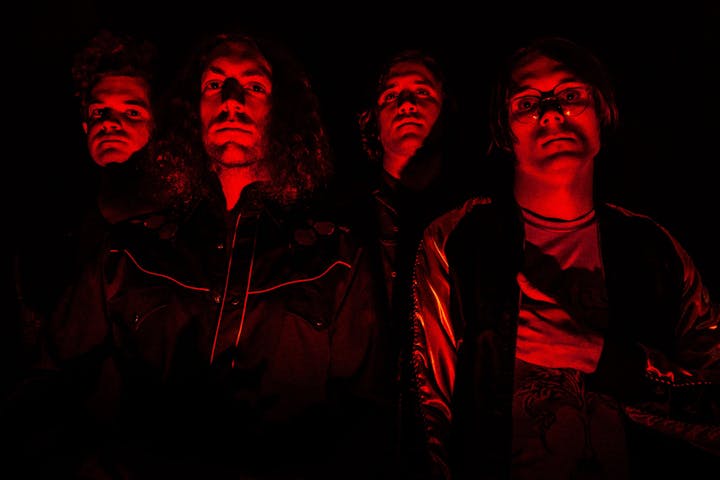 Instagram | Facebook | Spotify | Bandcamp
Over the course of five years and five LP's, L.A. veterans, Frankie and the Witch Fingers, have been mutating and perfecting their high-powered rock n' roll sound. After savagely touring the USA and Europe, this four-headed beast has shown no signs of relenting—appearing like summoned daemons and dosing crowds with cerebral party fuel.
The main attraction of Frankie and the Witch Fingers is their explosive performance. With their rowdy and visceral approach to live shows, each member brings their own devilry to induce an experience of bacchanal proportions.
Using absurd lyrical imagery—soaked in hallucination, paranoia, and lust—the band's M.O. strikes into dark yet playful territory. This sense of radical duality is astir at every turn, in every time signature change. Airy vocal harmonies over heavily-serrated riffs. Low-key shamanic roots under vivid high-strangeness. Rambling stretches and punctuated licks. Cutting heads and kissing lips. All this revealing a stereophonic schizophrenia that has flowed throughout their body of work: an ebb & flow of flowery-poppy horror.
The band's latest incarnation is primed to break new sonic ground, edging into the funky and preternatural. Just when you think the trip couldn't get any weirder, Frankie and the Witch Fingers cranks up the dial, shatters the mundane, and summons new visions.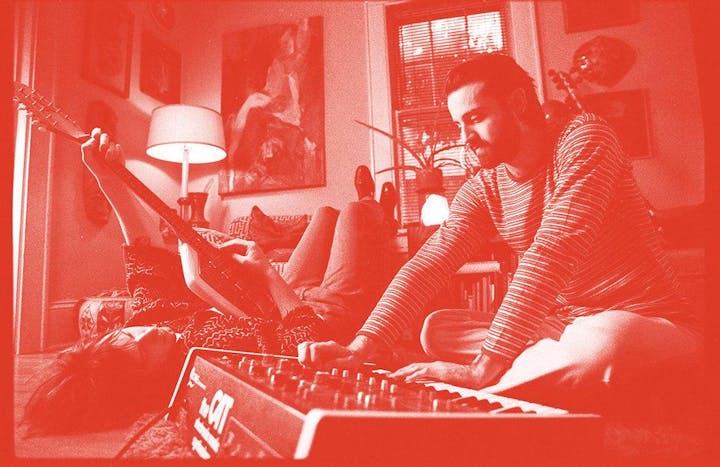 Shadowgraphs
Instagram |Facebook | Bandcamp
Shadowgraphs is a neo-psychedelic band from Charlotte, NC, comprised of internationally known collage artist Bryan Olson and fellow German cosmonaut Charles Glade (Wils). Both ends met after being introduced through a mutual friend who thought the two shared similar musical interests. Bryan and Wils instantly sparked a connection and songs began to emerge. The two would experiment late nights with tape machines, sharing music and production ideas, and writing songs. After only four months of meeting, an EP titled "Return to Zero" was written and the band was officially born with Ethan Ricks on Bass and Cody Hare on Drums.
"The six-song release is a mesmerizing psychedelic overtaking in the vein of 13th floor Elevators and the golden age of enlightening psychedelic rock. The tracks blend together so stylishly it makes me want to drink spiked strawberry lemonades in the sunshine. "Moonchild" is one of those unattainably perfect nights where the groove is set by smart, steady rhythm and lights fizz around your head even (and especially) when your eyes are closed. "Return to Zero" is straightforward, bluesy and a completely distinctive sound to come out of our Queen City." –Shirley Griffith CltureMag
Since Return to Zero, Shadowgraphs put out a two song EP titled "Midnight Tea" containing a Syd era Pink Floyd cover of "See Emily Play" along with an unreleased Kinks cover of "This Strange Effect." The EP was featured on New Zealand music Blog "The Active Listener".
Venomous Blossoms, Shadowgraphs follow-up 10 song LP, is finished and currently being pressed for Vinyl with an expected release date in April under the label Golden Brown out of Portland, OR. This LP was recorded all to 2" 24 track tape at Bryan's home studio with the band, followed by mix down to 1/2" tape in Athens, GA at Chasepark Transduction Studios with Drew Vandenberg (Toro y Moi, Of Montreal, Deerhunter), and then finally shipped out to Telegraph Mastering in Portland, OR for Mastering.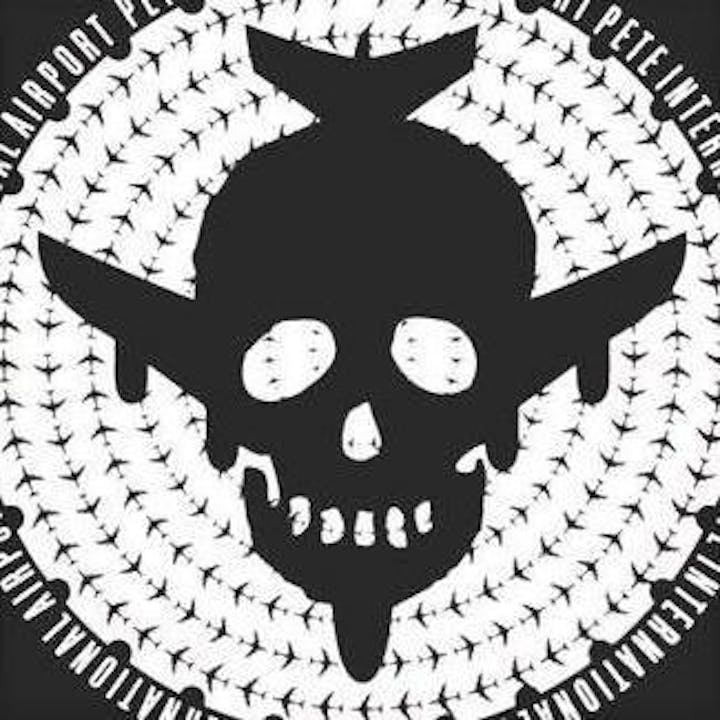 Instagram | Twitter | Facebook | Spotify | Youtube
Pete International Airport is the brain child of Peter G. Holmström. It's name is borrowed from a song title by his other band, The Dandy Warhols. Pete International Airport's new album, Safer With The Wolves…, is a meticulously crafted psyche rock journey into the dark heart of electronica. The album's 11 tracks feature guest singers from like-minded allies such as: The Black Angels, Daydream Machine, Black Rebel Motorcycle Club, Dark Horses, Hopewell, and more. It will be released by A Recordings in October.