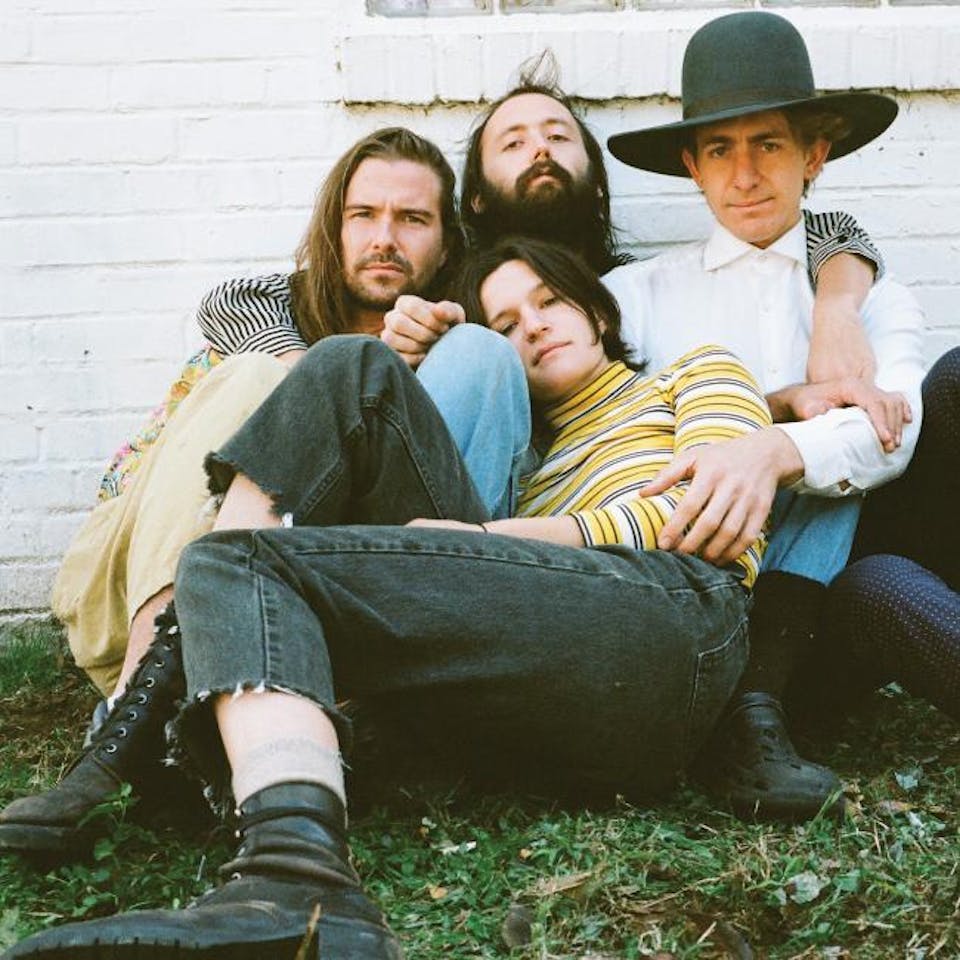 Big Thief
Palehound
Crystal Ballroom
Portland
,
OR
$25.00
Sales Ended
On etix
Big Thief
Can we welcome an unknown that stretches, terrified, into every direction? Is it safe to grab the shrivelled, mysterious hand that reaches out to us from darkness? A trembling voice speaks the answer clearly. The Celestial Twin. U.F.O.F.
U.F.O.F., F standing for 'Friend', is the name of the highly anticipated third record by Big Thief, set to be released by 4AD later this year. The New York-based band, featuring Adrianne Lenker (guitar, vocals), Buck Meek (guitar), Max Oleartchik (bass), and James Krivchenia (drums), has spent the last 4 years on an incessant world tour, winning the devotion of an enthusiastic and rapidly expanding audience. Their songs represent an emotional bravery and realness that weaves intimate relationships with the listener, a phenomenon that has made them one of the most widely-respected bands of the current era. Their first two back-to-back releases, Masterpiece (2016) and Capacity (2017), have been analysed, wept to, danced to, critically applauded, imitated, hummed idly, and shouted out loud. They have soundtracked crowded restaurants, difficult conversations, cowboy bars, yoga classes, night drives, and lonely bedrooms.
In 2019, the members of Big Thief are more deeply bonded than ever before. Their lives have become completely intertwined. Perpetual motion, nightly performance and struggles of the road have led them to develop their own connective language. They wake up and run together each morning; they intuit songs only sung for each other. Perhaps the best Big Thief tune you will never hear is the backstage classic, "I know what you mean. It's a beautiful thing." The spirit has never been stronger and U.F.O.F. feels, to Big Thief, like their first record as a fully realized band.
U.F.O.F. was recorded in rural western Washington at Bear Creek Studios. In a large cabin-like room, the band set up their gear to track live with engineer Dom Monks and producer Andrew Sarlo, who was also behind their previous albums. Having already lived these songs on tour, they were relaxed and ready to experiment. The raw material came quickly. Some songs, like 'Cattails'—written only hours before recording—stretched out instantly, first take, vocals and all. Others were explored in search of perfected moments of dynamic feedback and spiritual, rhythmic togetherness. A careful New Age sprinkle of mystical textures and stabs was added and kept in the mix only when all agreed that each element had become absolutely crucial to the tune. The completed palette feels classic, upfront and honest, with an occasional, welcome glimpse into the magic box.